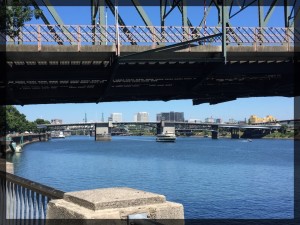 "The Dream of the 90s is alive in Portland." –Portlandia
It was really hard not to sing that song as I toured Portland for my first time. I was only there for a weekend and most of that time was spent in a hotel for the Willamette Writers Conference (which is an excellent conference that I highly recommend). However, I was able to get out to explore downtown for one day.
It's a very interesting city. People bike everywhere, which is something I totally endorse. I rented a bike and rode around the Willamette River and had the sore legs and bottom to prove it.  Living in Florida, I am NOT used to hills! Of course, the warm weather of Florida followed me up there and the temperature was in the 90s (ha!) during my visit. Everyone complained about the heat, but I would just smile. They don't even know heat.
There was so much I didn't get to see, so I will definitely be making a return trip at some point. I would love to hike the surrounding forests and explore the mountains. While I didn't get to see much, I did get to have a doughnut from VooDoo Doughnut. Oh my gosh! So good. Here is a picture of my Portland Cream. I only had to wait in a line of twenty people to get it!
Here is the shop with the line out of the door: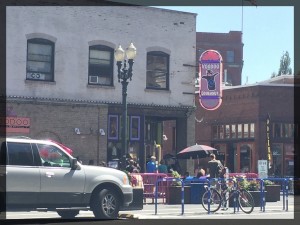 The people from Portland and other parts of Oregon and Washington were so friendly. I met lots of great, interesting writers. I can't wait to go back with the entire family.
Share This: