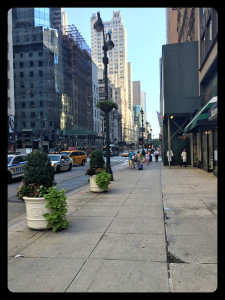 At the beginning of August, I attended my first writer's conference: The Writer's Digest Annual Conference in New York City.  As a writer, going to conferences is often touted as the point where you begin to take your writing career seriously.  In many respects, I agree, since it consists of listening to lectures on the craft of writing, learning about the publishing world, and networking with other writers as well as agents and editors.  I particularly enjoyed meeting other unpublished writers, which were all talented, helpful and supportive.
At the conference there were three keynotes given.  The first was Jonathan Maberry, who writes horror fiction, comic books and a young adult zombie series.  Before the conference, I read the first book in the zombie series titled Rot and Ruin, which was very good if you like zombie stories…which I do!  The central keynote was given by the award winning author, Jacqueline Woodson.   She writes young adult and children books filled with African-American themes.  I started her book Brown Girl Dreaming before the conference but I ran out of time.  Hopefully I can finish it soon, because it is beautiful.  When she gave a reading of her work, I got chills.  The closing keynote was Tim Johnston, the author of Descent, which is a novel about a young college-bound woman in Colorado for a family vacation, who goes out for a run and is abducted.  I read the book this summer and enjoyed it.  His speech was great, and he handled a few technical issues with grace and a whole lot of humor.  I love hearing about how people find their way into writing careers.
The climax of the event, for me and other authors pitching work, was the Pitch Slam, which is basically speed dating in the publishing world.  Agents sit at tables circling a room and you get three minute chunks of time to pitch your novel to them, in the hopes that they will give you their card with a request for actual pages of your novel.   To say the stress level for those pitching was high, would be an understatement.   I engaged in some light banter and anxious giggling with a couple of people while waiting, while others murmured to themselves in an attempt to soak up the final minutes of preparation.
I signed up for the very first pitch session.  I liked that time slot because 1) I got it over with early and could enjoy the rest of the day, and 2) the agents were fresh and hadn't been listening to pitches for hours on end.  That being said, I also didn't get to practice much that morning.  As it turned out, that practice wasn't even needed…
They opened the doors and the long line of us lumbered toward the entrance in nervous anticipation.  I had a list of agents I was targeting based on my research of the participating agents' manuscript wish lists.  Luckily, the first agent I choose to pitch to was not one of my top bets, since it didn't go well.  I don't believe I was alone in this, because many people referred to your first pitch as a throw away.
I sat down in front of this first agent and after calmly shaking her hand and telling her it was nice to meet her, I immediately launched into this long-winded script that I had written in hopes of selling my book.  As I rattled on, I could see in her face that I had lost her and I wondered if she was even listening.  She finally cut me off, to my relief, and started interrogating me about my novel.  I could tell by her questions that she totally missed what my story was about.  She gave me some tips, but my main takeaway was that I needed to keep it simple.  She did offer to read a scene if I sent one to her, so it wasn't a complete waste.  After we were done, I stood up and wandered toward the middle of the room, trying to determine who to pitch to next while simultaneously rethinking my entire pitching approach.   I saw a short line for one of the agents whose wishes aligned with my book and before I could overthink it, I went for it.
I sat down in much the same fashion as before, but this time I just started talking in a conversational manner.  I left out some of the details I had included the first time and instead focused on the overall arc of the story.  I felt more relaxed and my enthusiasm for my work was much more obvious.   When I finished, I looked anxiously at the agent in front of me.  She remained serious for a second then nodded with a smile and grabbed a card from her stack.  As she handed it to me she said, "That sounds good, I like feminist angles.  Send me the first twenty pages."  I think I said thank you before I skipped off toward the middle of the room.  I fought the impulse to shout out to everyone that I got a partial request.
Part of me wanted to leave right then, since I felt validated that I had secured one request.  I pushed on, though, and got three more requests, each one for more pages than the previous.   I left the room buoyant and floated on a cloud for the rest of the time.   I don't know if I felt better at the possibility of agents reading my work, or that I finally felt like I belonged at the conference.
Another benefit of the conference was being able to visit one of my favorite cities.  I haven't been to NYC in over twelve years.  In my twenties, I went through a stretch of going almost every year.  I definitely have missed it and as always, felt sad to have to leave so soon.  After the conference, I was able to wander down to Times Square, snap some pictures and buy t-shirts for my kids.    Before my feet were rubbed raw from tramping all over NYC in dress shoes, I boarded a train to Newark for my flight home.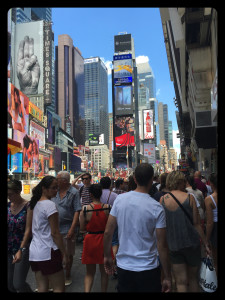 So what happened with those blessed agent cards I received?  Well, other than securing them in an envelope placed in a box and locked in a fireproof safe, I have sent off the pages to one agent so far.  That way, if I get feedback from agents along the way, I can make changes before sending it to the next one.  It is a long, slow process and the likelihood of landing one of these agents is extremely small, but it is exciting to try just the same.  Soon, I will begin writing my second novel, which is where the real fun is for me.
Share This: